Are you looking for a new wine subscription service, that's a bit different? Wine52 is Beer52's wine club. It provides members with 3 bottles of wine from a different country each month, along with a couple of snacks and a magazine about the region and the wines, so is the Wine52 subscription worth it?
Beer52 has been around since 2013, but they recently launched their new wine subscription program called Wine52. What makes it different from other wine subscription services out there? Let us take a look at some pros and cons of Wine52 and see if it's really worth it.
Pros and Cons
Pros:
– You can sample wines from all over the world – expand your horizons
– You don't have to worry about how much money you spend – it's set at a monthly price of £32 every 28 days with shipping, included so it's easy to budget
– You get to try out wines you wouldn't normally buy –  you get the choice of red, white, or both but that's the only decision you have to make, other than yes or no to subscribe…
– You don't have to worry about storing wine in your house because pretty well everyone can find a place for 3 bottles, you can even leave it in the rather attractive box that it comes in.
– You can usually find a partner offer that lets you try out Wine52 by only paying £5.95 for the shipping – or contact me and I'll send you my personal referral link (this means I'll get some free wine, you can then pass your referral code onto friends later for the same perk – but I only have one available!)
– Each purchase generates you points, which you can exchange for money off up to 50% of your order (in their beer and wine shop – each wine you rate or review and for referring your friends)
– Refer a friend to also get discounts off wine when they buy a full-price case
– You can suspend your subscription by a month online 
–  Trust Pilot Reviews are good, with a satisfaction rate of 4.5 / 5 stars
Cons:
– The selection isn't as good as going to your local wine shop – in fact, if you're after something specific, or find a favourite that you'd like to get more of you're probably out of luck
– If you don't like it, you're stuck with it – but at least you can divert it into cooking, or check out the essential guide for tips to like the wine that you're currently drinking.
– It's expensive (relatively) at £10.67 per bottle (if you're not considering the snacks and magazine), careful selection at Aldi or Lidl at around £6-£8 per bottle can result in 4 or 5 excellent bottles for the same cost. And personally – I've not really enjoyed the snacks… so I'm mainly considering the wine in the cost.
– If you don't like talking to people, you won't be happy that to cancel your subscription you need make a phone call or email them to discuss… No online option to cancel. However, if you do click the cancel button, you'll be offered a £5 discount for a month to stay… and be aware that you lose any accrued benefits if you do cancel.
The Subscription Review
Wine52 Review
Cost of Box: £32 for 3 bottles
Introductory Offer: free box, just pay for shipping
Delivery: Next day courier
How do I cancel: Ring or Email only
Contents: 3 bottles + 2 snacks + 1 magazine
Packaging: Well-packed wine, and snacks have been taped into the tape on one occasion.
Frequency: Every 28 days – that's 13 boxes per year
Extras: Rewards points with money off and free boxes (except shipping) available for referred friends
USP: Introduces you to new regions that you wouldn't normally try
Beginner Friendly: Yes, the only choice you have to make is if you fancy red, white or both. If even this is daunting though, you can check out the beginner's guide to red, to white, or to rose to help you choose your own wines to start your wine journey.
Summary
If you'd like to be introduced to new wines every month, and expand your horizons give it a shot!

Overall, obscure wine was amazing, more traditionally available regions were a bit disappointing and the snacks just didn't do it for me.

Cancellation is only available through human interactions, and there is no dietary information available before the wine is despatched.

The Wine (or Beer) Store
If you find something in the Wine52 shop that you like the look of, keep looking further – you need to get your basket to £50 to be eligible for free shipping – and any reward you have can be used for a maximum of 50% of the basket. At the moment, there is nothing in the wine section of the store that is over £50 – and the same goes for the beer store – so be prepared to splash out more than you might have intended.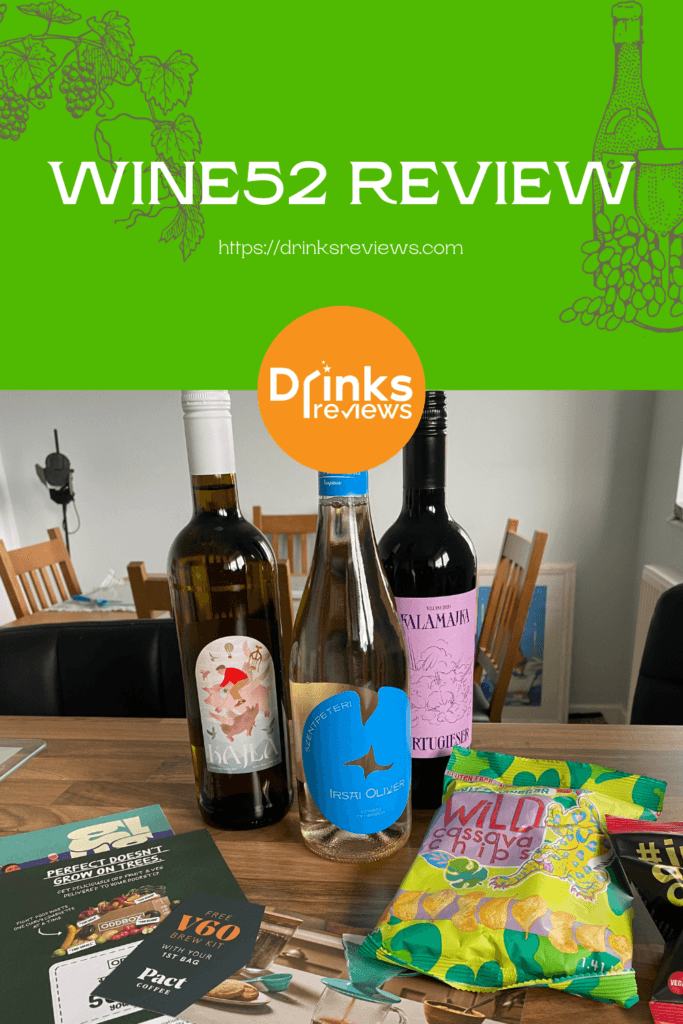 The Wines Then…
So, the first box is free (except for shipping of course), but what are they like?
Firstly – the Wine52 wine subscription is arranged by country, and they consider themselves to be a "discovery" wine club. This means you get no choice in what comes in your box (except for the decision of red, white, or mixed). Wine52 sources from winemakers around the world, and delivers exclusive wines – which means, of course, if you find something that you particularly like, you will probably really struggle to get some more.
Top tip – if your box comes with a new favourite – keep an eye on the Wine52 wine store, you might be lucky enough to snag another bottle of it.  Alternatively, check out the winemaker details on the back of the bottle and have a go at contacting them directly. Just remember that any wine imported into the UK attracts alcohol and tobacco duty as well as import VAT at the standard rate of 20%.
The Verdict
I now have 4 wine deliveries to rate – so I guess you could say I've given it a good try! But I'm afraid, overall it's nothing I'd write home about. But if you want to see what's in the box – you can watch the unboxing of my second delivery below.
Even the snacks left me a little bit disappointed – I think of the 8 snacks (4 boxes) there was only one that I really enjoyed. The magazine is a great idea – but only got opened to have photos taken in my house, it's just not really our thing!
Now, that said, there were a few bottles I really enjoyed – and those were the ones that you don't often see in the UK. The wine from Hungary was amazing (this did not shock me – I spend a week or so working in Hungary a few years ago, and their wine blew me away while I was there). Big and bold flavours, with a great balance, made it a pleasure to drink. As the majority of Hungarian wine is not well known, great quality is very reasonably priced.
However, I didn't find the offering from the more well-known regions to be nearly as nice. This is a real shame because there are those hidden gems in well-known wine regions – they're just a bit harder to find.
Conclusion
All in all, if the discovery cases were to explore wine regions that I couldn't easily find on my own, I'd be keeping this subscription active – however, as it is, I've now got it paused until I see what the next country on offer is – and if it doesn't excite me, I think I'll be leaving Wine52. 
Are you tempted to try Wine52? Let me know in the comments.