Welcome to DrinksReviews first subscription review – the topic, Vidrate Drinks!
I encountered ViDrate Hydration Sachets through LinkedIn in 2021 because I'm a connection with one of the co-founders, Nick Hird. And as it's a local UK business, and I'm always in need of electrolytes (spending a lot of time running or in the gym has that side effect), and because they offered me a water bottle and a  t-shirt I placed my first order! Yes – I'll order lots of things for a t-shirt!
Product Summary
ViDrate healthy enhanced hydration drinks have cool flavours, vitamins, and electrolytes and are sweetened with stevia, rather than sugar or artificial sweeteners. They're available in many different flavours – and they always seem to be releasing new special edition ones (although the strawberry lime is still my favourite one)!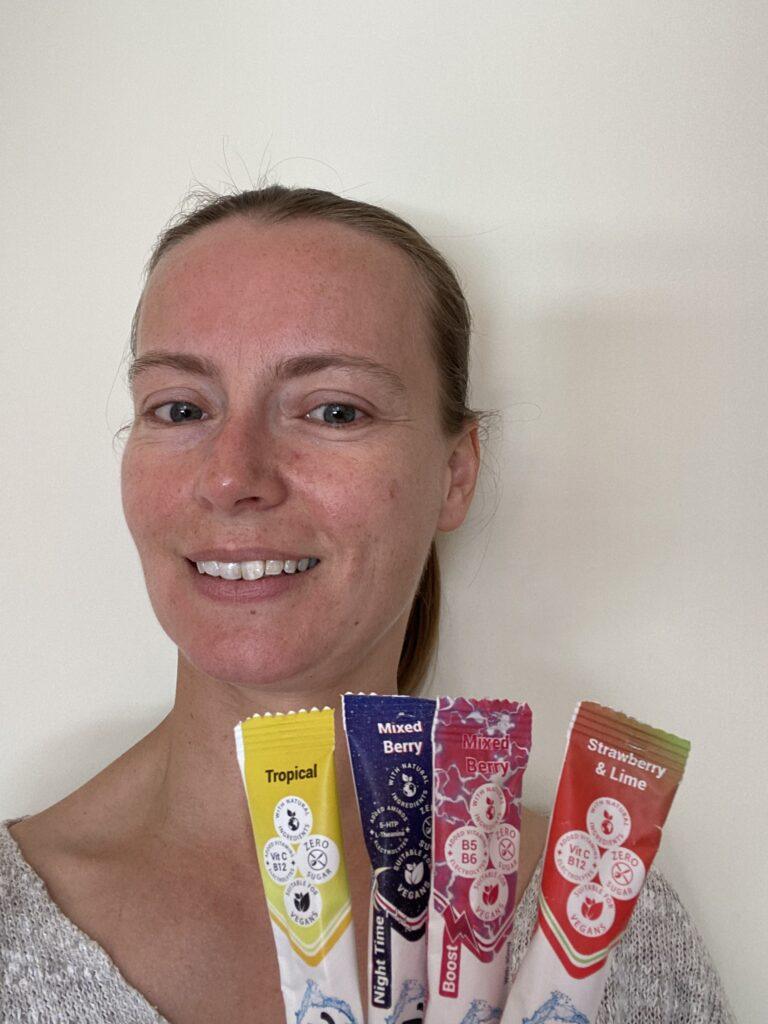 Who are ViDrate Drinks for?
ViDrate drinks come in small sachets (5g), and are made in the UK. They are designed to make water a bit less boring so that you rehydrate yourself properly. 
To help with hydration, as well as great taste they contain electrolytes (sodium, potassium and chloride), as well as vitamins B12 and C. One sachet of strawberry and lime (my favourite) contains 16.2 Calories, 3.8g of Carbs (of which 0.2g is sugar) and less than 0.1g of fat. This means, technically if I'm fasting and grumpy (and even though I don't like to admit it, it does happen sometimes), one of these sachets in my water bottle doesn't break my fast while tickling my tastebuds.
They are suitable for vegans and pretty well everyone else except for young children and those under medical supervision – so if you're unsure, talk to your doctor before taking your first sip.
ViDrate Enhanced Hydration
Cost of Subscription – £14.95 for 30 days (30 sachets)
Introductory Offer – First 30 days free!
Delivery – free for subscriptions or over £25 – otherwise chargeable
How do I cancel? Email or Webchat
Contents? Tasty hydration powder – but options to add merchandise too
Packaging? Cardboard fit through the letterbox
How Often? Every 30 days – skip or cancel with 2 working days' notice
Beginner Friendly? Yes, as long as you're happy to do everything online
Extras? New/Seasonal flavours are added regularly + a rewards program to keep you coming back
Summary
Overall ViDrate has a firm place in my drawer at work – I reach for it when I've had a hard workout, need a pick me up, or really feel I need a bit of flavour (this one is usually when I'm fasting or on a strict diet).

I don't use it regularly enough to subscribe myself – but I have placed two separate orders for 30 sachets, and proudly wear my ViDrate T-shirt to the gym.
How Do I Use ViDrate Drinks?
Well…. you open the packet and empty it into a glass, or water bottle of plain water (500ml – 700ml of water is the recommended size). I find a pint glass of water is about right for my taste (568ml to be exact). You can add them to cold water, hot water, or my go-to – topped up with sparkling water.
You can get cool branded water bottles from ViDrate (don't judge – I have two, one at home and one at work), just beware like most water bottles they have a tendency to leak a bit. The advantage to the water bottle is that you can shake it to mix… although don't try it if you've used sparkling water… oops my bad,  and on the boardroom table in the middle of a meeting too.
Even if you don't get around to shaking the product to mix, you can leave it to its own devices and it dissolves pretty well. It's almost better to make it and then leave it for 10 minutes before you take a drink rather than shaking it like mad.
What's it Intended for?
Well, it's intended for hydration (with electrolytes to top you up from your last sweaty workout – or hangover, and vitamins). Water intake is always topical, the experts recommend that we all drink at least 2 litres per day, that's between 6 and 8 glasses of water!
Benefits
Hot or Cold (still or fizzy)
Natural Ingredients
Contain Electrolytes (great for recovery, after a heavy workout, or even a hangover)
Convent for travelling – no issues going through airports!
Use them frozen into lollies, or as a smoothie boost
Made in the UK
Suitable for Vegan, Diabetic, Halal, Kosher
Paper-based sachets, no plastic (so keep them somewhere dry…)
Special Sachets
There are three different versions of ViDrate. The standard version, Night Time Mixed Berry and Boost Mixed Berry. So far, we've been talking mainly about the standard version, but here's how the others are different.
Night Time
The night time mixed berry version is supposed to help you sleep (I seem to have lots of them kicking around, but I've personally never tried them – an experiment for later!). Reviews suggest that either they are amazing, or don't really work for the individual – so I guess you have to give it a shot yourself to see what you think. But don't mix them up with the (also mixed berry flavoured) caffeinated Boost version!
Don't worry about downing a pint of water before bed with the nighttime version, it's designed for 300 – 500ml of water, so you shouldn't be up all night in the loo!  Instead of the vitamins B12 and C, the nighttime version contains L-Theanine and 5-Hydroxy tryptophan.
L-Theanine is a naturally occurring amino acid found in tea, research has found that it may improve mental focus and quality of sleep.
5-Hydroxy tryptophan increases serotonin levels and research is currently still evaluating its impact on sleep.
Boost
The mixed berry Boost version contains 30mg of caffeine (about the same as a cup of tea, or a third of a cup of standard coffee), as well as vitamins B5 and B6 instead of B12 and C.
B5 and B6 are two of the 8 necessary B vitamins. They help your body make blood cells and are used to convert food into energy and support your immune system.
So, What do People Think?
Trustpilot is always my first port of call to understand what everyone else thinks. Today – the 9th of April 2022 there are 2,726 reviews on Trustpilot with an average rating of 4.5/5.

A full 78% of the reviews are Excellent – but the more interesting ones tend to be the negative ones, so let's see what they're saying.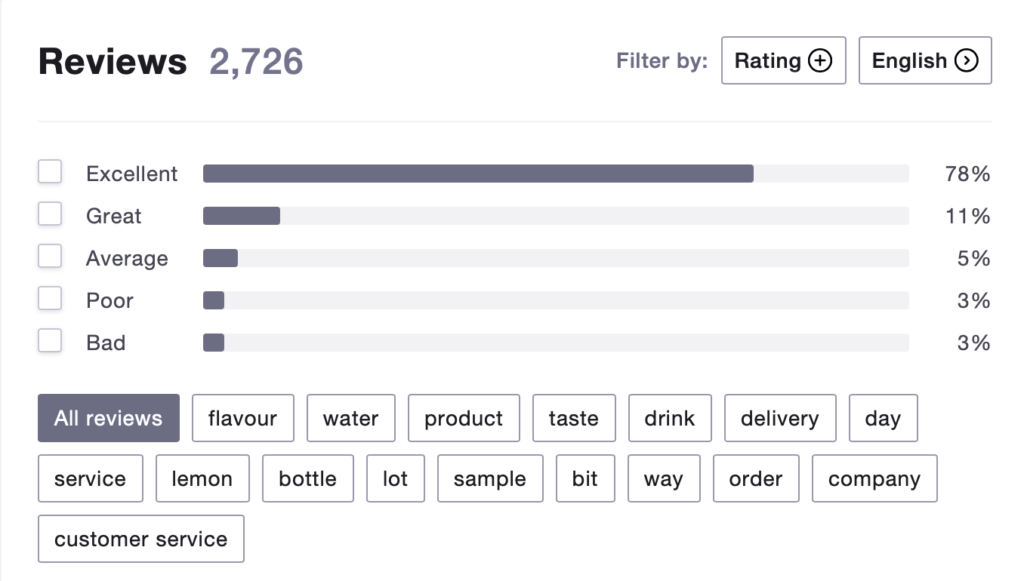 Most of the negative views seem to be about the taste of the flavours – now I can sympathise here, there are a few flavours that I don't really like – Coconut for example. However, the taste is something quite personal – so if you're on the fence, a trial pack of different flavours is the way to go.
Other complaints include the amount of marketing material that gets sent, sometimes even after opting out. I have experienced a lot of emails, however; my solution is just to delete the emails I don't want – but I do that across all email lists! I haven't tried opting out, so I can't comment on how well that works.
Buying Options
You have one-off or subscription purchasing offers.
One-Off
You can try a starter pack to see if you like it (30 sachets plus a bottle at the moment, with an onsite offer for 40% off and free UK delivery at the moment).
If you fancy a smaller quantity to try, the Variety 8 Pack (containing 8 different flavours – although 3 are mixed berry when you consider one mixed berry standard, one mixed berry "Boost", and one mixed berry "Night Time" is £7.45 + £3.45 shipping (delivery in 3-5 working days).
Subscription
If you want to leap straight into the subscription, new subscription customers are offered their first month free (30 sachets), with the reoccurring order commencing after 30 days at £14.95 (saving £8 off of a one-off purchase of 30 sachets).
Subscriptions are offered in multiples of 30, 60 or 90 sachets. With different mix and match flavour options depending on which multiple you select. 
– 30 pack has a choice of 1,2 or 6 different flavours
– 60 pack has a choice of 1, 2, 3, 4 or 6 different flavours
– 90 pack has the full choice!
If you find yourself with too many sachets kicking around at the end of the month, either make some popsicles, quick! Or pause your subscription by skipping a month via the My Account screen. If you don't have enough, head over to the same place to add some more to your next delivery or change the flavours.
You can cancel your subscription at any point, but bear in mind you need to give them 48 hours' notice (or two working days) from your renewal date, if they've already shipped to you or taken the money from your account, your cancellation will take place from the next month. 
Any issues at all, contact the ViDrate team via email or webchat – so if you're a person who prefers your customer service served via the phone, this is not the place for you.
Note – orders under £25 are charged £3.49 for shipping, free UK shipping is offered for orders over £25, except for subscriptions.
Rewards
ViDrate offer a Rewards program where you collect points for undertaking different activities (including purchases). You can currently redeem your rewards points for money off vouchers. My 1300 points are worth a £15 voucher at the moment!
So what are you waiting for? Nip across to the ViDrate Enhanced Hydration website and place an order – then drop your favourite flavour in the comments.