You've got a bit of weight to lose, we've all been there – perhaps the newfound appreciation for wine after conquering your wine newbie fears has contributed, or you've got an upcoming holiday to prepare for, or maybe your doctor has advised that it would benefit you to slim down a bit. Regardless of your reasons for exploring healthy smoothies for weight loss, let's dive in and see if healthy smoothies can help you achieve your goals.
Do Healthy Weight Loss Smoothies Actually Work?
Smoothies are great because they're easy to make, quick to drink, and packed full of vitamins, minerals, antioxidants, and fibre (unlike juices where the juicing process strips out the fibre completely). Making your own smoothies is relatively inexpensive, as long as you have the right tools (a high powered blender is a must for crushing nuts, seeds and ice).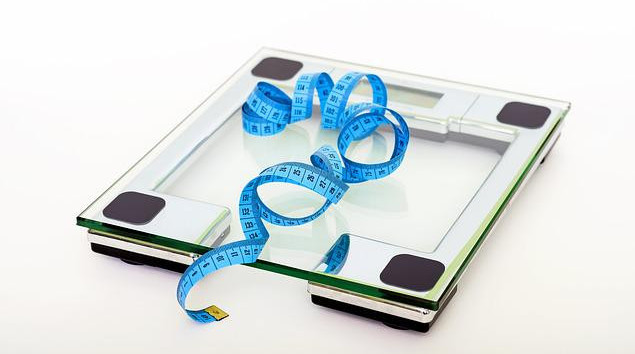 Making your own smoothies also allows you to control all of the ingredients going in, and unlike commercially bottled smoothies, you can adjust them to your taste, as well as make them with the freshest (or freshest frozen) ingredients to order – bonus no preservatives!
The standard advice for losing weight is by eating fewer calories than you burn each day. However, as bodies are complicated this can become really nuanced in individual situations –  so if you have any concerns at all, please don't rely on advice from the internet, rather consult a qualified professional that you trust such as a nutritionist, dietician, personal trainer or doctor who can give you advice tailored to your age, body, lifestyle and goals.
Now, smoothies are by no means a magic bullet to help you lose weight. They are a way of including an easy to prepare, a healthy, tasty meal into your diet. I promise if you have one healthy smoothy and 2 high-calorie fast-food meals a day, it's unlikely that you'll lose weight. Ditto if you don't feel full from your smoothie and gorge yourself on snacks.
Think of a smoothie as a tool that can help you on your weight loss journey, but you have to do some work too. 
How Smoothies Can Help You Lose Weight
A smoothie is a great way to start your day because it's filling and nutritious. If you construct your smoothie correctly, it will give you energy and keep you going all morning (or afternoon) long. It might take you a few days to get used to drinking your meal, rather than chewing it –  but it's worth persevering because there are many practical benefits.
These include: 
Fast Preparation
Transport Friendly, make it at home, take it to work, school, shopping…
Healthy Option – I'm looking at you fast-food burgers!
Inexpensive to prepare
Can a smoothie replace a meal?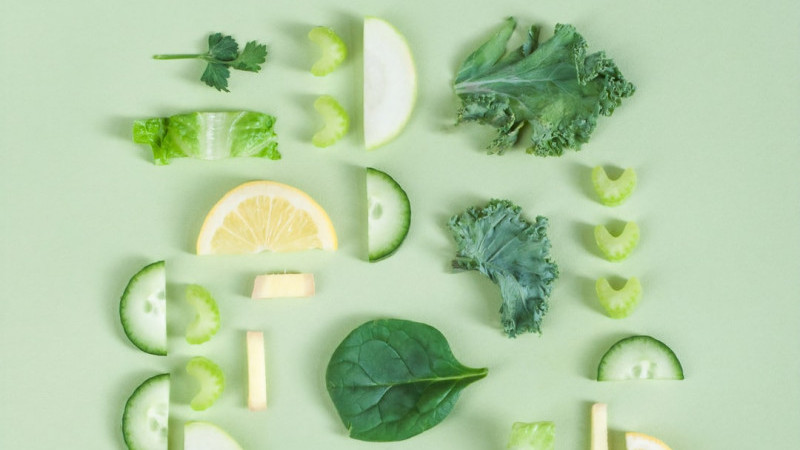 Smoothies are great because they combine all the nutrients you need into one drink. They're easy to make and don't require any cooking. The best thing about them is that they're so versatile – you can add anything from fruit to nuts to protein powder to make it taste exactly like what you want.
The key to the feeling of fullness (or satiation) from a smoothie can be a bit different than from a standard meal, and it helps to think of it as a meal itself, not a meal replacement. When constructing your smoothie you need to pay careful attention to the fibre, protein and fat choices because these contribute to helping you feel fuller for longer (and that way avoid undoing all your good work by reaching for a snack straight away).
Depending on your diet choice, you may also include high glycemic index carbohydrates (think things like porridge – your body has to work harder to digest it than something like white bread toast, therefore you feel fuller for longer). But don't stop here! The act of chewing and the speed at which you consume your food also contribute to how satiated you feel – so slow down your consumption, no gulping down your smoothie or you'll be hungry again quickly. And if you're a person who likes silky smooth smoothies – consider embracing the rougher texture, it can give you something to chew on – just check your teeth for spinach residue before you head out in public!
Once you've conquered feeling satiated from your smoothie, it gives you control over your post-meal snacking. It also means that if you're on the go, and have your smoothie with you, you can resist the urge to have a high-calorie breakfast or lunch option. I make a smoothie to take to work for lunch a few days a week – it's a good change from a salad, and takes less time to prepare it! It also means I don't reach for a sandwich or ready meal (or order takeaway to work… although that does happen sometimes!).
What Makes the Best Weight Loss Smoothie?
Unlike most posts, I'm not going to give you a set of weight loss smoothie recipes, but rather, my method of mixing and matching healthy ingredients to come up with delicious smoothies to suit your tastebuds and goals. Now smoothies can cater for different diets – so if you are following a specific diet, just make sure that you're making the necessary adjustments to the items that you pick from each list.
The best weight loss smoothies start with a base of vegetables… now hear me out, we all know that we need to get a lot of servings of fruit and veg to be healthy, but more and more we are told that fruit is high in sugar, and we should be careful about how much sugar we are eating. So base in veggies…  You might be thinking that this is disgusting, but hear me out – there are a lot of veggies that give great fibre, vitamins, minerals and phytonutrients but don't add a lot of taste – and they're the perfect base for your smoothie.
Next, we need some fruit, for its sugar, and taste – but not too much.
Some protein, to help build (or maintain) our muscles – when losing weight we want to do our best to maintain our muscle mass while losing fat. This is easier said than done, there are whole diet and exercise programs dedicated to helping people lose minimal muscle while losing weight. A key to maintaining muscle mass is having adequate available protein in your diet.
A liquid to allow the blender to actually work!
And finally, any additional elements (nuts, seeds, nut butter, fats, flavours) that tailor to your diet, nutritional or flavour needs.
What can I put in my smoothie to lose weight?
If you want to lose weight, then adding some extra vegetables into your smoothie will definitely help. Vegetables like spinach, kale, celery, cucumber, celery, avocado, and chard all contain high levels of fibre which helps keep you feeling fuller for longer. They also provide vitamins and minerals which are essential for keeping your body running smoothly.
Fat Burning Smoothies for Weight Loss
The first thing you'll notice about this smoothie is its colour. It's green because it contains spinach, which has a high concentration of iron, calcium, vitamin A, folate, and vitamin K. Spinach is one of the most nutrient-dense foods available, so adding it to your daily diet will give you a boost of energy and nutrients.
Foods to Boost Metabolism
Dark leafy greens (kale, spinach, chard, etc)
Grapefruit
Green Tea
Ginger
Coffee
Cacao
Flax or hemp seeds
Brazil nuts
Foods to Help Fat Burning
The science is shown here
MCT oil (coconut oil is a great source)
Coffee
Green Tea
Whey Protein
Full Fat Greek Yoghurt
Avacado
Blueberries
Oatmeal
Quinoa
Chia seeds
Cinnamon
Celery
Watermelon
Blackpepper
What ingredients are in the best weight loss smoothies?
The most important thing to remember when making a smoothie is to start with the vegetables. These will give you the most nutrients and fibre. Then add your fruits for flavour, antioxidants, and a bit of natural sweetness. Protein keeps you full and helps provide you with all the amino acids you need to build muscle.
So Let's Make A Healthy Smoothie
A smoothie is a great way to start your day because it's filling but not too heavy. It's also a great option if you're trying to lose weight as they're easy to digest and won't leave you feeling bloated. But my favourite way to have a healthy smoothie is actually at lunchtime. I combine my healthy smoothie for weight loss with intermittent fasting to gain the benefits of both approaches.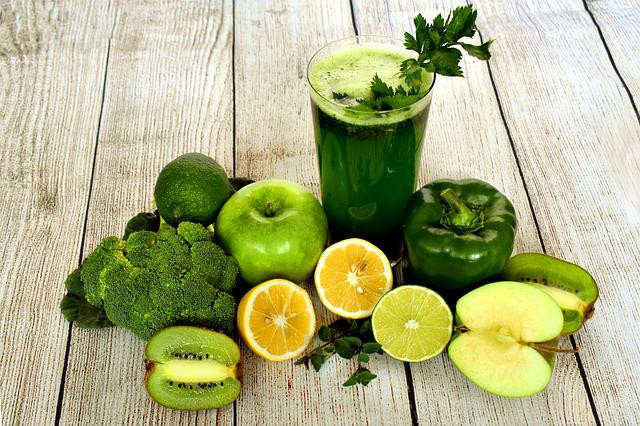 My approach to beautiful smoothie making is a bit unorthodox. I'm not going to give you a delicious smoothie recipe, rather, I'm going to help you create your own from lists of great ingredients.  And if you're serious about using healthy weight loss smoothie ingredients – it's only part of the battle. I'd highly recommend you track your daily calories as well (I use myfitnesspal), to make sure that you're giving yourself the best chance at achieving your goals.
Healthy Green Smoothies
A green smoothie is a great way to start – even if you don't really like green vegetables. It's packed with vitamins, minerals and antioxidants which will give you energy throughout the day. They're also easy to make and take only minutes to whip up.
In fact – I'm such a fan of green smoothie recipes, I base all of my smoothies around green vegetables. Now before you turn your nose up – if you're careful in the green vegetable selection, you have to try very hard to taste the green – and if you're trying that hard, you're just not serious about having success with weight loss smoothies.
So to start your smoothie – choose veg from this list:
This is instead of the standard banana smoothie base, which is high in sugar – the best substitute for the frozen banana in a smoothie recipe is the humble courgette.
A big handful of spinach (baby spinach has hardly any "green" flavour at all), and as a backup, you can keep frozen chopped spinach in the freezer for those "oops I ran out of raw spinach" smoothie emergencies
Courgette or zucchini, raw – take a big handful and chop it up (also hardly any taste)
Curly kale, or leaves of kale of any other variety – like Calvero Nero – a big handful
Cucumber – this might surprise you, it can have a bit of a refreshing flavour through the smoothie – but with the be careful fruit you choose, the correct pairing makes a delicious treat.
Other leafy green vegetables (dandelion greens anyone? No? Prepping extra greens like broccoli leaves, swiss chard, spring or summer greens for smoothie making is also a good way to use up the extras when they're abundant – just parboil, blanch in cold water and pat dry. Then you can keep them in baggies in the freezer ready to be added straight to a smoothie.
Top tip – prep your whole smoothie (except for the liquid) in a labeled bag in the freezer – then all you need to do is grab it, add your liquid and blitz!
Next choose a fruit or fruits:
Frozen fruits are king here because they tend to be less expensive, last longer and are easier to portion out. You are also going to want to be sparing with your fruit – too much will be too high in sugar and reduce the health benefits of your smoothie.
Frozen Berries (mixed berries tend to be the least expensive, but frozen blueberries, frozen cherries and frozen raspberries are all good options)
Fresh Ingredients are good too – blueberries, fresh cherries (please don't try and blitz the stones!) or other berries
Green apples, or red apples
Frozen mango chunks – or fresh if you're feeling flush, but you won't need a lot of it, so line someone else up to eat the rest of the mango!
Any other fruit flavours you fancy – perhaps some nice tart grapefruit?
Adding Protein Without Resorting to Protein Powder
There are many ways to add protein to your diet. Protein powders are one of the most popular options because they are convenient and easy to consume. They are also inexpensive and most contain all essential amino acids (the building blocks of proteins) which makes them ideal for adding to a smoothie.
However, despite the range of different types of protein powder on the market (Whey Protein – milk-based, Pea Protein – plant-based, Egg Protein, etc), not everyone is a fan of adding a protein powder. Personally, I'm not, I find they can taste chalky and often are chock full of artificial flavours and sweeteners.
So, what are the alternatives to add extra protein to your smoothie? Consider blitzing in some of the following:
Greek Yoghurt
Plain Tofu (my favourite – you can get it nice and smooth!)
Egg whites (you can buy bottles of pasteurized egg whites – they're very popular in the bodybuilding community)
Nuts and Seeds (Chia or flaked Quinoa are a good option)
Unflavoured cottage cheese
But my personal go to:
Huel Black Edition Vanilla – while it's not a protein powder (unless you specifically buy their protein powder), it's a complete meal in itself, but the black edition adds a lovely natural flavour and protein burst to my standard smoothie. (If you're following a specific recipe, one scoop of Huel Black edition vanilla is a good substitute for a scoop of vanilla protein powder – with the bonus of some added vitamins and minerals)
Add in Some Fibre:
It keeps you regular (although your veg is helping with that), but also increases satiety
Consider adding some:
Oatmeal
Flaxseeds/hemp seeds
Quinoa flakes
Cooked brown rice 
Finishing Touches
Nuts, seeds, nut butter, and other flavours can add something a bit extra to your smoothie.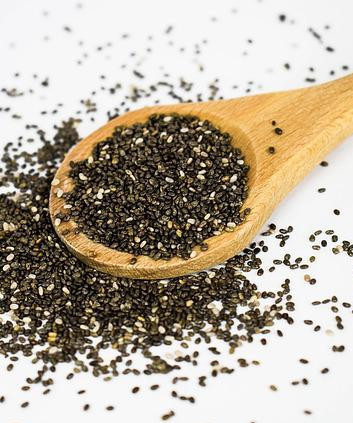 For sweetness consider:
Maple syrup
Honey
Agave nectar
A dash of cinnamon
For savoury kick:
Peanut butter, almond butter or cashew butter
Some black pepper
Ginger for its heat
A squeeze of lemon or lime for freshness (consider adding the zest too)
Cacao nibs, or powdered cacao for a chocolatey flavour and a source of iron, magnesium and potassium (try it with cherries – you're welcome)
Herbs like rosemary, basil (brilliant with strawberries), mint (cucumber base, apple fruit, green tea liquid, squeeze of lime)
Chia seeds (calcium, iron, magnesium, phosphorus and zinc, as well as vitamins B1 and B3)
Pumpkin seeds (omega-6, vitamin K, phosphorus, manganese, magnesium, iron, zinc and copper)
Almost Showtime:
The last element is the liquid that you choose to pair your ingredients with, I'm not a fan of being held back here, so I'll use everything from kefir to green tea to water… and if you don't have enough of your liquid of choice – be bold and mix them up!
Consider:
Plant milk (oat, coconut, hazelnut, soya, almond, etc)
Regular milk
Kefir
Tea (brown or green – try green tea with spinach, raspberries and lime – yum)
Coffee (black cherry mocha anyone?)
Plain old fashioned water!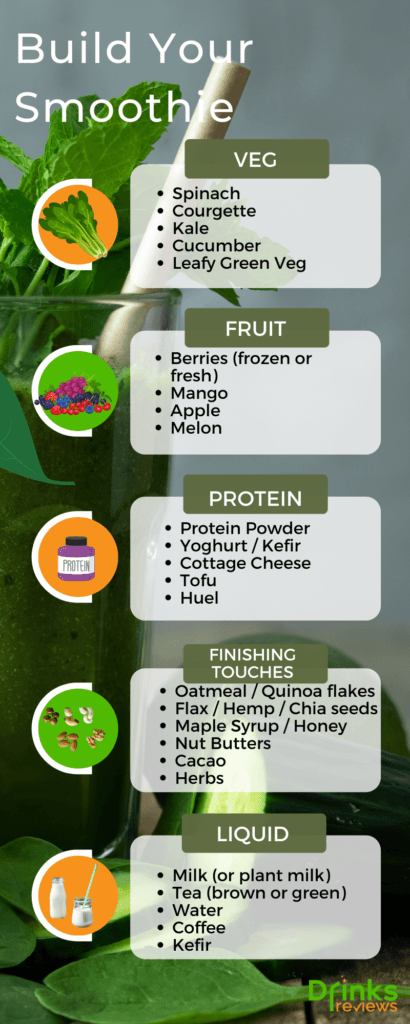 So, what will be your first smoothie? Note down the proportions so that you can adjust for the next one (and track your calories and nutrients using an app like myfitness pal), and let me know how it goes in the comments.