If there is one wine synonymous with celebration across the world, it has to be sparkling wine. It comes in so many exciting styles that it can be difficult to navigate sparkling wine for beginners. Fear not though, and read on as we take out some of the mystery of sparkling wine.
Sparkling wine is a fizzy wine due to the high Carbon Dioxide levels in the bottle. On some occasions, it is also called bubbly. Different sparkling wines have other names depending on where they are made, the style, the type of grapes used, and where the grapes are grown. Each sparkling wine can have its own appellations (a legally defined geographic area), which govern how the wine is produced. 
Sparkling wine is the celebratory wine for those special occasions. People always wait to hear that pop of the bottle and the frothing and pouring of the wine. It is always a great highlight of an event when the bottle pops loudly, although the real skill is in being able to ease the cork from the bottle with a gentle pop and no loss of wine! It is also a welcome drink that is served in the signature flutes as the majestic bubbles rise slowly in the wine.
The difference between sparkling wine and other wine
The main differentiating factors are the bubbles and fizz. This is caused by how the wine is made. In the winemaking process, the wine is fermented twice.
The winemaker mixes the crushed grapes with yeast and the wine ferments. The second fermentation process is when the bubbles are visible.
Although there are many styles of making sparkling wine, the resultant wine will always be carbonated. When you open the bottle, the Carbon Dioxide tries to escape from the wine, which you see as the frothing or bubbles rising in the glass.

Are technical wine words interrupting your reading? Try the wine word reference guide.
Types of sparkling wine
Most sparkling wines come in white and rose options. The rose is usually slightly more expensive, with the delicate pink colour produced by maceration and blending – the same way still rose wine is made. If you are a beginner at sparkling wines, here are some types of wine that you should know and try.
Champagne
This is a sparkling wine from the Champagne region of France. No wine should be called Champagne unless it is grown in France under the appellation and rules that govern Champagne making.
The grapes used to make Champagne are Pinot Noir, Chardonnay, and Pinot Meunier. However, sometimes, vintners use Arbane, Petit Meslier, Pinot Gris, and Pinot Blanc.
Champagne can be paired with oysters, steak, calamari, and French fries as the bubbles always go well with saltier and savory dishes. For more ideas, take a look at the Champagne and food pairing guide!
Champagne is more expensive than most still wine because of the name and region, and it has become a coveted drink reserved for special occasions. Because of this, it is often better value to buy a less sought-after sparkling wine, as you can get a higher quality drink for a much more reasonable price. So instead of reaching straight for the champagne for your next special occasion consider trying one of these other sparkling options below.
Cremant
This is a sparkling wine from Limoux, Burgundy, and Loire valley (and other European wine-making regions like Luxembourg – although their lovely wine is mostly kept for their own consumption and hard to get your hands on in the UK).
It is made in the same style as Champagne but often is made with different grapes making it riper, creamier, and nuttier. It can be enjoyed with dishes with thick buttery and creamy sauces. It goes with lots of creamy pasta.
Cava
This is the sparkling wine from Spain. Just like the French are proud of their Champagne, the Spanish also came up with their signature wine. Cava comes from the word "caves," as the winemakers would age their wines in caves.
Cava is made with Macabeu, Xarel-lo, and Parellada, all white grapes. In some instances, wineries also use Chardonnay, Monastrell, Garnacha, and Pinot Noir. It goes well with fried fish, almonds, smoked salmon and olives. Try some Cava on your next summer picnic in the hot sun.
Sekt
This is the sparkling wine made in Germany. Their pride and joy is Riesling Sekt which comes from their signature grape variety. Riesling is a grape variety that came from the Rhine region of Germany.
If you are getting started in the world of sparkling wine, you should try this. However, sometimes, riesling can have high acidity levels but is still a refreshing wine. It can be served with chicken dishes or savory, meaty plates. 
Brachetto d'Acqui and Moscato D' Asti
These wines are made in Italy. Brachetto d'Acqui is made in Acqui Italy with the Brachetto grapes while Moscato D' Asti is made in the Asti region with Mosacato grapes. The wines are sweet, affordable, and perfect for beginners with a sweet tooth.
You will also find that they are generally lower in alcohol content than most of the others on the list. They add light and sweet sparkle when paired with salads and desserts.
Prosecco
This is a typical sparkling wine made from the Glera grape variety in Italy and is ideal for beginners because it has approachable flavors. Sometimes, you can get aromas of fruity or floral scents although the wine itself is usually quite dry to the taste.
Prosecco is available in different levels of fizz too:
Spumante means sparkling
Frizzante is semi-sparkling, with fewer bubbles than the spumante (and may have a standard screwtop rather than the mushroom cork and cage that you would expect to see on a sparkling wine)
Tranquillo is a much more rare still Prosecco, that you will probably only rarely encounter in the UK.
It is also very affordable and a perfect addition for daytime or summertime drinking. It goes well with picnic foods like salads, Charcuterie boards, and brunch dishes, or why not try it in a classic Bellini or Mimosa?
Others
Each region has its own sparkling wines. Here are others that you can try.
Methode Cap Classique (MCC) is a sparkling wine from South Africa
Lambrusco: This is a sparkling red wine from Romagna in Italy
Espumante: This is a sparkling wine from Portugal
Classification of Sparkling wine
There are many classifications of sparkling wine, and sometimes, the names on the bottle may be confusing for a beginner. Here are some of the terms that you find on the wine bottle and what each means in order of sweetest to not sweet at all.
Doux the sweetest sparkling wine – for desserts
Demi-Sec is a semi-sweet wine that you can enjoy with a sweet cake or fruit
Dry / Sec still fairly sweet – just to confuse things completely
Extra dry / Extra Sec is a wine that is not too dry. The name may be confusing
Brut is dry but also easy to pair with food
Extra brut is a very dry wine
Brut Nature be prepared, the lowest amount of sugar in a sparkling wine
Tracking nutrition? Check out the Calories for a glass of bubbly of each classification type.
How to enjoy your sparkling wine
If you are trying to learn about sparkling wine, buy yourself a champagne flute which is a tapered glass that will preserve the bubbles (unlike the champagne saucers that you'll see in movies which allow all the bubbles to escape). There are many champagne glass types, and you can choose one that works for you, but try to get one that is shaped like a tulip – like these: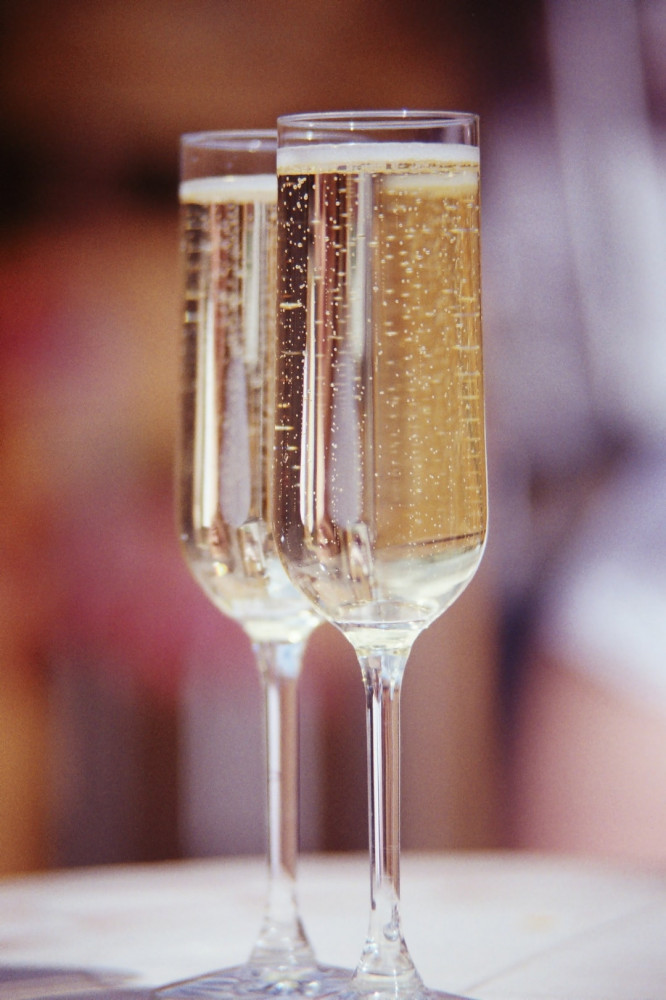 And check out this guide if you need a hand removing the cork from a sparkling wine bottle with flair!
Each sparking wine is different in terms of flavor profiles and food pairings. However, when learning about wine, you need to keep trying different bottles to find what you like.
What's your favourite sparkling wine so far? Let us know in the comments.